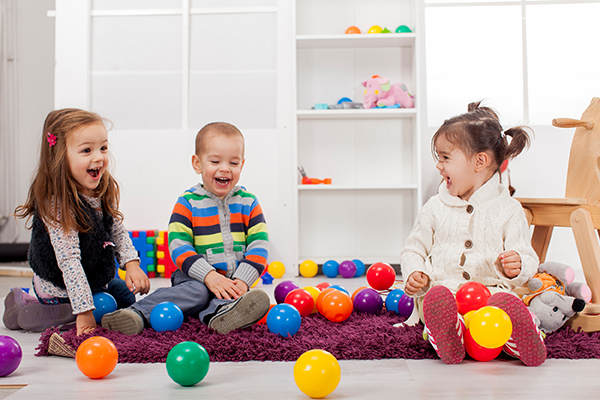 Play is an important occupation that begins early in life. Characteristics of play include:
Self-chosen or self-directed activity
Intrinsically motivating
Guided by rules
Use of imagination
Occurs in a stress-free state of mind
Through play, children are able to develop motor, sensory, cognitive, social and emotional skills. Children can also learn how to challenge themselves and problem-solve. Types of play vary across the stages of human development.
Age range: Birth- 6 months
Exploratory

Sensorimotor play (exploration by grasping, shaking, banging, throwing and tasting objects)
Social
Attachment and bonding with parents
Age range: 6-12 months
Exploratory- sensorimotor play evolves into functional play
Functional play (using toys for the purpose they were intended for)
Social play with parents
Age range: 12-18 months
Relational and functional play
Simple pretend play directed toward self (pretend eating, sleeping)
Imitates play behavior when it is modeled
Age range: 18-24 months
Functional play
Performs multiple related actions together
Age range: 24-36 months
Symbolic play
Uses objects for multiple pretend ideas
Uses toys to represent animals or people
Plays house, taking on and assigning specific roles to others
Constructive play
Participates in drawing
Helps put puzzle together
Imitates adults using toys
Age range: 3-4 years
Complex imaginary play
Creates script during play in which pretend objects have actions based off of roles in real life
Portray multiple characters with feelings
Constructive play
Creates art product independently
Completes puzzles
Rough and tumble play
Enjoys physical play, jumping, running and using swings and going down slides at playground
Social play
Participates in circle time, games, drawing, and art time in preschool
Enjoys singing and dancing in groups
Plays with other children, shares and talks about play goal
Age range: 4-5 years
Games with rules
Begins group games with simple rules
Participates in organized gross motor games such as kickball or "Duck, duck, goose"
Constructive play
Takes pride in finished product
Shows interest in the goal of an activity
Social/dramatic play
Participates in role play with other children
Plays "dress up"
Continues pretend play using scripts with imaginary characters
Age range: 5-6 years
Games with rules
Board games
Computer games
Competitive and cooperative games
Dramatic play
Imaginative play
Role play stories related to seasons and occupations
Emphasis on reality
Sports
Participates in ball play
Social Play
Participates in organized group activities
Winning could become goal of play
Age range: 6-10 years
Games with rules
Computer and card games that require problem-solving and abstract thinking
Crafts and hobbies
May have collection of items
May have hobbies
Organized sports
Cooperative and competitive play in groups or teams
Emphasis on winning and skills
Social play
Play includes talking and joking
Plays with consistent friends